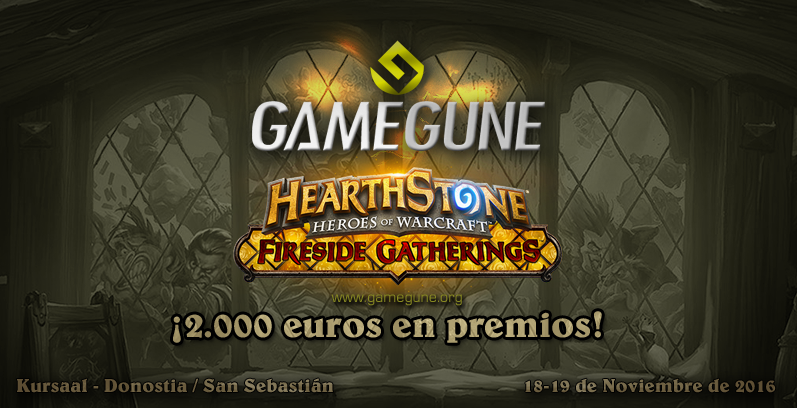 Fireside Gathering at Gamegune 2016
This year you will not only enjoy the matches of the world's best Hearthstone players but also be part of the Gamegune itself! Therefore in this edition, Gamegune is also hosting a Fireside Gathering (FSG), open to everyone that wants to play in this tavern*, so pull up a chair and enjoy some Hearthstone!
Fireside Gatherings involve meeting up with other Hearthstone players and playing at a local venue. They're a great way to meet other Hearthstone fans in your area, make new friends and have fun!
More info at http://eu.battle.net/hearthstone/en/fireside-gatherings
This FSG has 2.000€ in prizes and other Blizzard goodies for the players taking part in it!
The tournament will use the Last Hero Standing Bo3 format and single elimination rounds, taking place on the 18th and 19th of November at the Kursaal Congress Centre, so attendees can also watch the pro Hearthstone tournament once they finish their matches.
Register form

:
Places are limited, so it is required to register. Online registrations will be open on Monday 7th of November at 16:00h. 

There will be 54 slots available, so once you receive your confirmation email, please arrive to the Kursaal on Friday 18th of November at 14:00h in order to check in and get your badge.
If there are no more available slots, do not worry, since we are opening 10 extra slots for the first 10 players that arrive to the Kursaal on Friday 18th of November at 14:00h.
*Slots are limited.